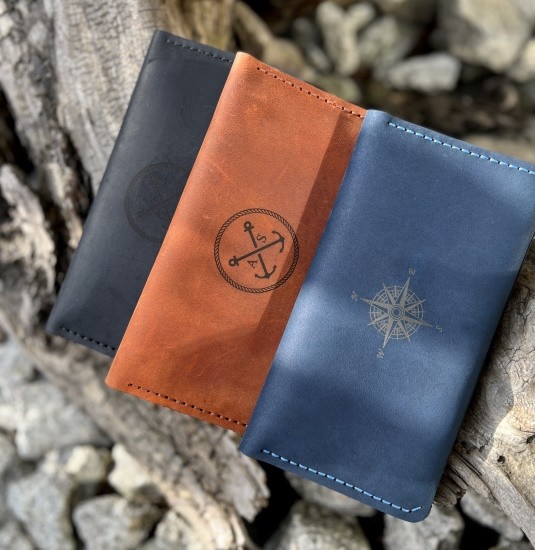 08.05.2023
Have you been invited to a wedding? What to give to the newlyweds? Personalized custom leather wedding gift ideas!
Personalized custom leather wedding gift ideas by Luniko!
The meaning of a wedding in people's lives is incredibly powerful and diverse, depending on the individual and culture. For many, a wedding represents the first step in building a lifelong partnership with another person – it symbolizes love, commitment, hope for the future, and respect for each other's values. It also celebrates the importance of family and community in one's life – even if it is just your closest friends coming together to witness your union.
For some cultures or faiths, weddings provide an opportunity to manifest religious beliefs into physical reality by incorporating rituals during their ceremony that connect them to their spiritual lineage. For example, traditional Hindu weddings involve seven steps around a holy fire where couples make commitments to each other similar to Catholic sacraments or modern-day vows. In addition to its role as an expression of personal faith and values, a wedding also emphasizes unity among different groups such as members of extended family/communities/cultures who come together on this day.
No matter what faith or cultural background you are from – be it Christian-based ceremonies incorporating hymns along with readings from scripture; Lutheran services uniting two families through prayers; Eastern Orthodox traditions like exchanging rings & crowns at altars decorated with candles & icons; Indian Hindu ceremonies blending Vedic mantras & prayers formed over several thousand years; Zoroastrian customs wherein couples exchange sacred vows between two fires honoring Ahura Mazda – there is something incredibly special about coming together through ceremony amidst friends & relatives who have taken part in various stages leading up towards that final moment when they say 'I do'. Indeed, weddings are more than just joyful occasions – they bring out deeply held emotions associated with tradition that keep bonds alive across multiple generations!
Are you looking for a wedding gift?
When it comes to wedding gifts, personalized and handmade leather goods stand out as the perfect present for newlyweds. Not only do they show a great deal of effort and thought has gone into finding something unique, but they also make amazing keepsakes that the couple can enjoy for many years to come.
Handmade leather goods provide limitless possibilities; you could get them wallets, bags or any other item they desire. You are also able to customize these items with initials or symbols of special significance, making them even more personal. When it comes to durability, handmade leather goods are unmatched – their strength is renowned in the world of fashion! Take wallets for example – when crafted properly from thick hides treated with oils and waxes without shortcuts like glues or liners these accessories will stay beautiful no matter if used daily or just occasionally.
Not only is this an incredibly thoughtful gift idea but it's also very practical too! Leather products have been around since ancient times; its use dating back centuries due to its immense versatility and long-lasting qualities as compared to other materials such as fabric or plastic substitutes which don't last nearly as long despite being cheaper in cost initially. Handmade leather items bring unparalleled sophistication into any outfit – be it casual office wear or a classic wedding look; making them an ideal addition on such a special occasion!
Furthermore there are plenty of eco-friendly options available too should anyone want something made from sustainable sources like vegetable tanned leathers meaning you're not contributing any further damage on already stressed ecosystems while still enjoying authentic luxury at its finest form!
Overall tailored bespoke handmade leather goods make fantastic keepsakes that every couple would love receiving on their big day – adding an extra touch of class along with timeless beauty all rolled into one package just waiting to be enjoyed by both new partners in life together forevermore!
Here's a list of leather wedding gift ideas by Luniko!:
Personalized leather luggage tags: engraved with the couple's initials or wedding date to use on their honeymoon.
Handcrafted leather journals: embossed with their names and wedding date for them to document their journey together.
Leather photo albums: personalized with the couple's names and filled with their favorite memories.
Custom leather keychains: engraved with their initials, perfect for their first home together.
Personalized leather clutchs: with their names or wedding date for the bride to use on the wedding day.
Leather guestbook: with the couple's name and wedding date for guests to sign and leave messages.
Engraved leather scrapbook: for the couple to keep photos and mementos from their wedding day.
Leather portfolio: embossed with their names for the groom to carry important documents or work papers.
Personalized leather passport holders: with the couple's initials for future travel adventures.
Hand-stitched leather coasters: with a design that represents the couple's interests or hobbies.
Custom leather memory box: to store important items from the wedding day, such as the bouquet or boutonniere.
Personalized leather mouse pads: for the couple's new home office, with their names or wedding date.
Leather-bound cookbook: personalized with their names and favorite recipes for the couple to use together in their kitchen.
Personalized leather drink sleeve: with their names or wedding date for the couple to use on date nights or picnics.
Leather-bound wedding planner: engraved with the couple's names for them to keep track of planning and memories leading up to the big day.
Personalized custom leather wedding gift ideas by Luniko!