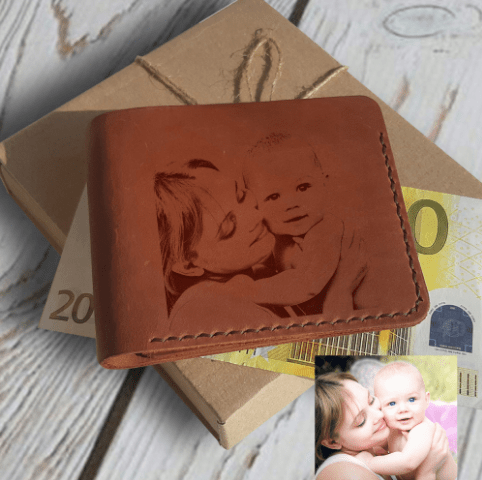 08.05.2023
The 50 best personalized gift ideas for men that will impress any guy!
The 50 best personalized gift ideas for men that will impress any guy!
When it comes to choosing a unique and thoughtful gift for a man, you can't go wrong with personalized leather gifts. Leather is not only stylish but also timeless, showing the recipient that you have put extra thought into the present. Personalizing a leather gift adds an extra special touch that will truly make it stand out from the rest of your gifts.
Customizable leather products offer plenty of options to choose from depending on your budget and style preferences. From wallets and belts to card holders, keychains, briefcases, journals and more – there are endless possibilities when looking for the perfect personalized leather gift for a man.
You can add custom initials or words through embossing or engraving, which makes each item even more special while adding an additional layer of sophistication. If you're feeling creative then why not even come up with design your own items? For example – create your own personalised passport cover or sketchbook by adding in his name or initials lettering so he'll always know whose book it is!
Handmade leather goods can be personalized in a variety of different ways. This allows you to create unique, customized pieces that make a perfect gift or keepsake.
When it comes to personalizing leather, the possibilities are virtually endless. You can have your initials embossed onto the item, either directly into the leather itself or on an additional piece of metal such as brass or silver. You could add custom artwork or text with engraving, whether it's an intricate design or just a name/date/phrase that is special to you and the recipient of your handmade item. A truly one-of-a-kind option would be hand tooling – carving designs into the leather itself by hand with specialized tools for individualized patterns and shapes!
You can personalize all sorts of classic pieces such as wallets and belts, but also other items like bags, hats, cufflinks, shoes, watch straps! With each product you decide on how much customization you want; from simple monograms to elaborate artworks – anything is possible when it comes to personalizing handmade leather goods!
No matter what choice you make – whether its something handmade, luxurious or simply practical all guys love receiving personalized custom leather gifts!
The 50 best personalized gift ideas for men that every guy will love:
A personalized leather journal with their name or initials embossed on the cover to help them jot down their thoughts and ideas.
A sleek and stylish leather wallet that they will love to show off on their next night out with friends.
A leather dopp kit to keep all their grooming essentials organized while travelling.
A set of leather coasters that are perfect for hosting parties and protecting their coffee table.
A custom leather phone case that not only offers protection but also looks classy.
A personalized leather watch strap that adds a touch of sophistication to their current timepiece.
A leather travel document holder to keep their passport, boarding pass and other important documents organized and safe.
A leather valet tray to keep their everyday items like keys, wallet and phone sorted and in one place.
A leather messenger bag that they can use for work or weekends.
A custom leather apron with pockets to keep their tools or supplies close while they cook or work on DIY projects.
A leather guitar strap to help them rock out in style.
A leather belt that is both fashionable and functional.
A leather desk pad to elevate their workspace and protect their desk from scratches.
A leather-bound book of their favourite quotes or poems to inspire and motivate them every day.
A personalized leather flask that they can take on their adventures.
A leather-bound journal with a unique design or pattern to help unleash their creativity.
A leather-bound photo album to showcase their favourite memories.
A leather-bound guest book for their next social event.
A leather-bound recipe book to hold their favourite cooking secrets.
A luxurious leather bathrobe to help them relax and unwind after a long day.
A custom leather luggage tag to help them easily identify their suitcase.
A leather-bound planner to help them stay organized and on track.
A personalized leather keychain that they will carry with them every day.
A leather-bound photo frame with a special message or date to commemorate a momentous occasion.
A leather-bound passport holder for their next adventure abroad.
A leather cigar case to keep their favourite stogies fresh and protected.
A leather-bound wine carrier with a customized message or name.
A leather-bound flask and shot glass set for the perfect weekend getaway.
A leather-bound field notebook for their next camping or hiking trip.
A leather-bound binocular pouch for their next outdoor adventure.
A leather business card holder to help them make a great first impression.
A stylish leather hat that will add some flair to any outfit.
A bespoke leather travel bag that they will cherish for years to come.
A leather portfolio to help them present their work in style.
A personalized leather bookmark to keep their place in their favourite book.
A leather-bound edition of their favourite literary classic.
A leather-covered tool bag to keep their tools organized while on the job.
A leather-bound cigar journal to keep track of their favourite sticks.
A leather-bound passport wallet to hold all their travel documents.
A custom leather desk set to elevate their office with style and class.
A leather-covered flask and shot glass set for the perfect groomsmen or Fathers Day gift.
A leather sling bag to carry their daily essentials while they travel.
A custom leather belt buckle to show off their unique style.
A leather-bound wine journal to track their favourite vintages.
A personalized leather luggage tag that they will never lose.
A leather-bound address book to keep all their contacts organized in style.
A custom leather dog collar to give their furry friend some style.
A leather-covered fingerless glove for cool autumn days.
A bespoke leather jacket that will fit like a glove and will last them for years.
A handmade leather backpack that they will adore.
You can order almost any personalized leather gift from this list in our company!
The 50 best personalized gift ideas for men that will impress any guy!