Description
Black handmade wallet with money clip made of genuine Italian leather. The main advantages of this accessory are compactness and roominess.
For you:
Reliable metal clip-type retainer. Doesn't tear up bills. You can carry cash in different sizes.
Leather wallet made of genuine Italian leather with four compartments for plastic cards, driver's license, ID card, residence permit. Holds up to 16 cards.
An original gift for your husband on Valentine's Day (February 14), or birthday, or wedding anniversary.
Many wallets in the Breast Wallet or tri-fold wallet format take up a lot of space. They are uncomfortable to wear, they pull down the pockets. A compact solution can be a leather money clip with compartments for plastic cards, or as it is also called front pocket wallet. We are pleased to present a handmade leather wallet with a money lock and four pockets for bank cards or documents.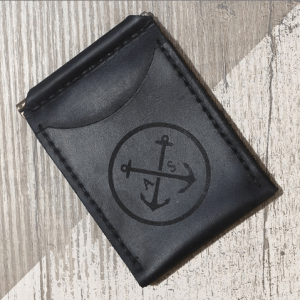 There is a possibility of other engraving, ask me
luniko.handmade@gmail.com
Why to choose a leather wallet from Luniko:
Compact size and large capacity. Few manufacturers can offer a money clip in which you can store twelve plastic cards and twenty bills at the same time.
Functionality and ease of use. This Italian leather wallet has pockets on the outside and inside. This solution allows you to divide cards by frequency of use. For example, if you often use your fitness center card or credit card, it is better to place them outside. You should place your ID card or driver's license inside, since you don't need them very often.
In this leather wallet, you can simultaneously store:
Bank card
Personal ID card
Driver's license
Student ID
Gym membership
Residence permit
Discount cards
Travel documents (public transport ticket card)
Pass
And other documents in the form of plastic cards
In addition, a high-quality clip for money made of metal will allow you to securely fix about 20 bills.
Agree, this is very convenient.
All products from Luniko combine common qualities:
All wallets, card holders are made of genuine leather and sewn by hand. We use Crazy Horse leather in most of our products. Follow the link =>>> to find out why this material is considered to be the best. Our products do not have an expiration date. They can serve for decades.
The method used by the master to fasten the elements of our products manually belongs to the category of the most reliable. Saddle stitch has been used for many centuries for the production of leather products for riding. Each seam has a lifetime warranty. Follow the link =>>> to find out more details.
We use the highest quality threads that are treated with beeswax. The wax protects against moisture and makes the seams reliable.
All our leather accessories share a common marine style that never loses its relevance.
Each of our products is a prestigious gift for a man or woman.
We strive to make beautiful things. All Luniko products have an author's design. It doesn't matter what you choose – a wallet made of genuine Italian leather, or a handmade card holder. In any case, you are guaranteed to get a high quality, original design and real pleasure from owning a unique thing.
Many of us face the problem of how to choose:
Birthday present
Christmas present
Valentine's day gift
Mother's day gift
Father's day gift
Anniversary gift
Wedding Anniversary gift
We are sure that with leather accessories from Luniko – you will easily cope with the task.
Black handmade wallet with money clip made of genuine Italian leather. The main advantages of this accessory are compactness and roominess.